Class 69 Project – SVR testing underway on 69001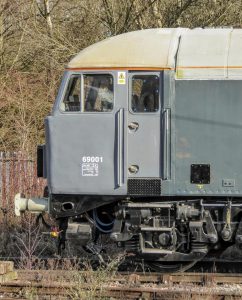 7th March 2021 – Further to the link in the recent update, GBRF released a youtube video reporting on the ongoing testing of 69001 (ex56031*) which is taking place at the Severn Valley Railway. Please follow link below.
Class 69 DEBUT behind the scenes on the Severn Valley Railway – Bing video
The eagle eyed may notice something unusual about the interior of the cab of the locomotive?
Have a look and see if you can spot it ( and it isn't related to the changes to the controls or the addition of the EM2000 unit ).
Note* Whether we view these new locomotives as the end of the class 56 which donated its bodyshell, or we consider these locomotives as just another exiting development in the life of our favourite class, this website will report on progress and roll out of the class 69 over the coming months.